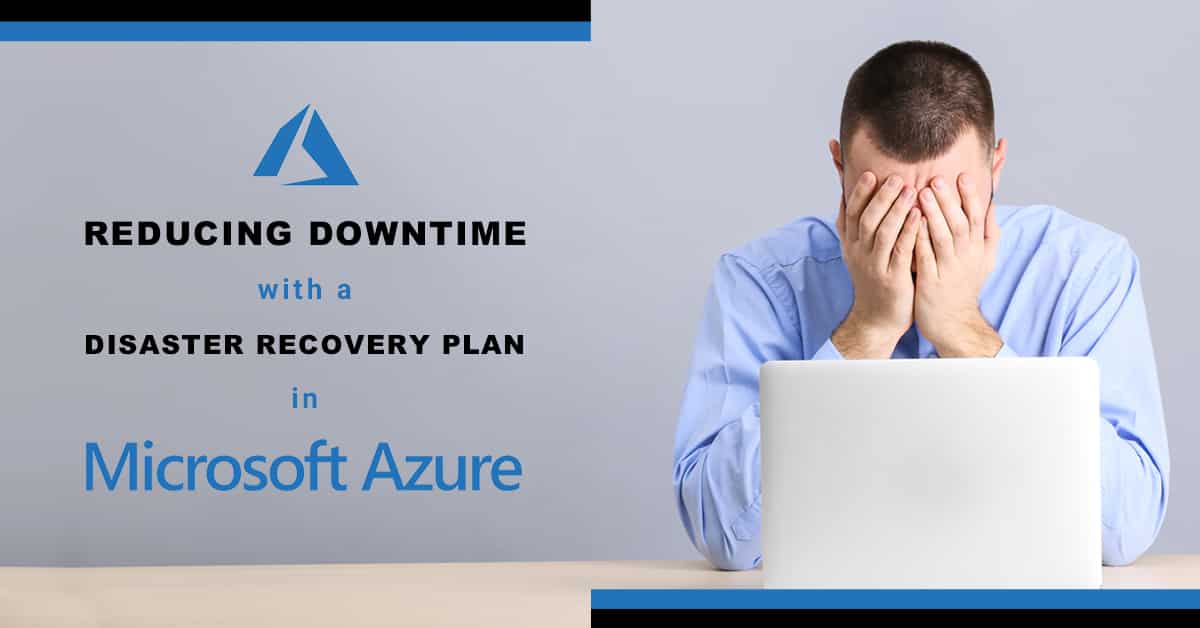 Disaster Recovery with Microsoft Azure
Most large companies rely on some sort of internal software dedicated to day-to-day operations, proprietary information, and other primary needs. Imagine what happens when a disaster hits that cause system failure without a Disaster Recovery Plan (DRP)? Let me break it to you, if disaster hits and you don't have a DRP, you will be spending money (a lot of money) to get things back up and running, at the same time spending week(s) losing money because you weren't prepared. There are so many situations that would be critical if a DRP was not in place. Things like fires, floods, tornados, power outages, or malicious virus and cyber-attacks are among the many disasters that can cause system failure and company downtime. According to a recent Touché Ross study, the survival rate for companies without a disaster recovery plan is less than 10%! Don't become a part of this statistic! Costly disasters can be easily prevented. With adequate planning, you can drastically minimize risk, regarding time and lost sales, that are associated with disaster downtime.
As cloud hosting becomes more popular, disaster recovery for software and applications hosted in the cloud, like Microsoft Azure, are more important than ever. Microsoft, being one of the top IT companies in the world, offers a competitive edge when it comes to cloud server hosting and disaster recovery.  No matter how you look at it, natural disasters and human errors are impossible to prevent. So why not prepare for a disaster and have a plan to quickly retrieve your company data and software in the event of a disaster and be back up and running quickly?
How Microsoft Azure affordably protects your IT systems:
It is no secret, hiring secondary datacenters for system backups is an expensive strategy for disaster recovery. Azure Disaster Recovery allows you to have a cost-efficient low recovery point objective (RPO) and recovery time objective (RTO) for every major system in your organization with cloud-based data recovery solutions by unifying data management, security and protection. If your organization experiences an outage or disaster, you can rest assured with an Azure BDR plan your systems are protected with automated recovery plans in a matter of minutes or hours, instead of days or weeks.
Disaster Recovery Planning in the Cloud
The decision your company makes in how they will recover from a disaster is something that should be planned out to reduce downtime and company losses. Start by creating a plan. This plan should include the people, processes, and applications needed to restore business functionality, but is not complete without proper testing.
Microsoft offers guidelines to consider when it comes to disaster recovery planning and restoration:
In your plan, include the process for contacting support and for escalating issues. This information will help to avoid prolonged downtime as you work out the recovery process for the first time.
Evaluate the business impact of application failures.
Choose a cross-region recovery architecture for mission-critical applications.
Identify a specific owner of the disaster recovery plan, including automation and testing.
Document the process, especially any manual steps.
Automate the process as much as possible.
Establish a backup strategy for all reference and transactional data, and test backup restoration regularly.
Set up alerts for the stack of the Azure services consumed by your application.
Train operations staff to execute the plan.
Perform regular disaster simulations to validate and improve the plan.
In the situation you may have to implement your disaster recovery plan, keep in mind automation is key, but manual responses may be necessary.  Performing operational readiness testing is a great practice to implement.
Business Disaster Recovery Statistics – Make a Disaster Recovery Plan with Azure and Momentum3
Data loss, no matter if it was caused by an employee opening up an email that has been injected with a virus or a natural disaster, has serious financial implications. Keep the statistics in mind when you start thinking about your disaster recovery plan:
52% of security and database breaches are caused by human error. Making it the #1 cause of data loss.
40-60% of small businesses who lose access to operational systems and data without a DR plan close their doors forever. Companies that can recover do so at a much higher cost and a longer timeframe than companies who had a formal backup and disaster recovery (BDR) plan in place.
Estimates are that unplanned downtime can cost up to $17,244 per minute, with a low-end estimate of $926 per minute.
According to a recent NFIB National Small Business Poll, man-made disasters affect 10% of small businesses, whereas natural disasters have impacted more than 30% of all small businesses in the USA. Hurricanes are by far the most destructive force causing power failure, flooding, customer loss, and the closure of many businesses.
How to get started with a Disaster Recovery Plan
Momentum3 will work with your company while prioritizing application in preparation for disaster recovery in Microsoft Azure. We will work with you in understanding the impact of a disaster by discussing financial loss over time, and structure the people, the process, and the application restoration steps to get your business back up functioning after a disaster hits. Since cloud-based disaster recovery has complex architecture, there is a lot of careful planning. As Microsoft Gold Partners, we have the support and expertise needed for peace of mind during system catastrophes.