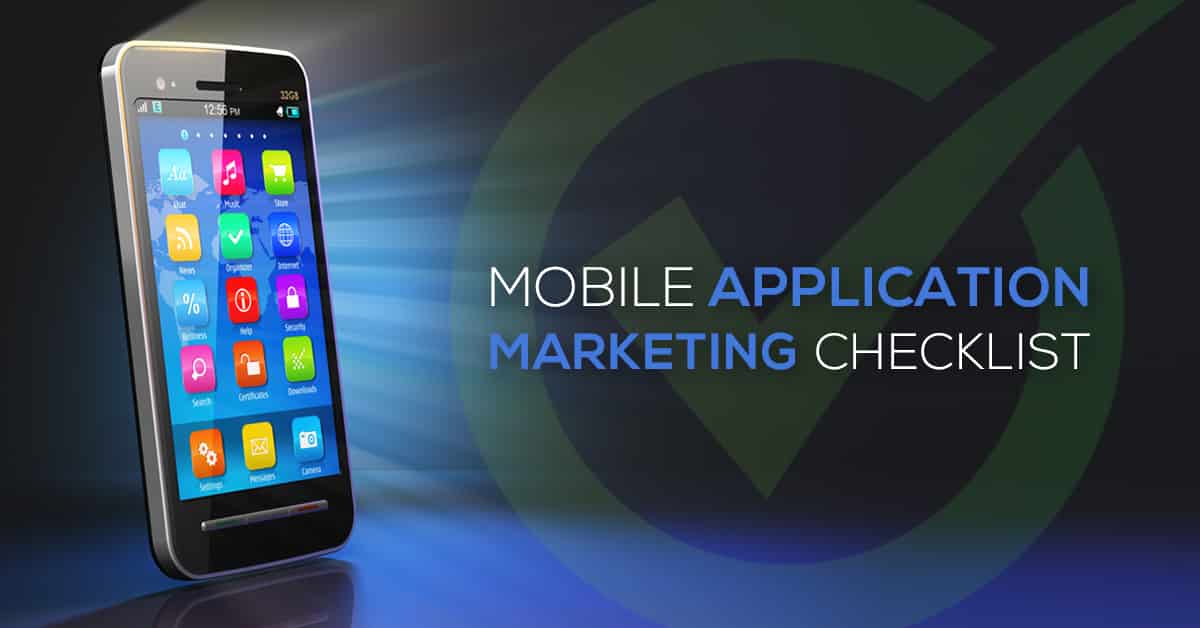 The Ultimate Checklist for Marketing a Mobile App
You probably stumbled upon this page because you're thinking about creating a really cool mobile application to address a pain-point in the marketplace or you've already created the app and need to know how to market it. Right?
We firmly believe that if you want to successfully market your app, you should begin working on your marketing strategy before development even begins; however, all hope is not lost if you were so excited to get your app put together that marketing slipped your mind.
So how do you market a product before it's ready? We've compiled a few ideas of how you can successfully advertise your app.
Pre-Launch Marketing Checklist
1. Build a Microsite:
A microsite is a branded content site that doesn't have to live on a company's website but can offer information about a particular service or product.
A microsite can serve as a forum for you where you can collect potential users' email addresses before the app is released and a place where you can distribute content about your platform.
Search Engine Optimization (SEO) will be an important marketing tactic on your microsite as well. You'll want to make sure you have incorporated the right keyword strategy and present informative content.
2. QR Codes:
QR codes are a great way to market mobile applications to the smart-phone generation. They can be added to your website, business cards, receipts, storefront window, and just about anywhere else you can think of.
Have your code ready for your launch date!
3. Social Media Marketing:
There are 3.2 billion social media users around the world. This statistic includes users across all social media platforms. Facebook is still the most widely used social media platform with nearly 68% of U.S. adults reporting that they use Facebook.
These statistics alone should convince you that skipping over social media as a place to market would be a losing strategy for your app. Social media marketing has proven to be one of the top digital marketing outlets
You can post links to your microsite, promote content, and leave spoilers about your apps function on your social media profiles. Do market research to find where your targeted audience spends most of their time on social media whether it's Twitter, LinkedIn, YouTube, SnapChat, or Instagram.
In addition to free publicity on social media platforms, each of them also offer sponsored or paid ad space. You can take advantage of this tactic too if you have the funding available.
4. Offer Promos and Early Release:
Another great way to market your app will be to offer promos and early release to users who sign up through your microsite or through social media acquisition. People are known for loving free things. Plus, by offering freebies, you are also increasing your chances to be shared on social media platforms and word of mouth is a great (and free) marketing tool.
5. Determine a Release Date:
Nothing creates more hype around a new product like a release/launch date. If people know when they can receive the product they've been looking forward to, they are more likely to download it soon after release. We recommend choosing a date that doesn't interfere with other events or releases that may overshadow your app.
Keep in mind, Apple has a strict review process that may delay your app's release. Plan far in advance to account for any unforeseen contingencies that may pop-up.
6. Videos and Screenshots
Google Play and the Apple App Store allow you to create a short video preview of your app. Don't sell yourself short by ignoring this feature. Create a demo or show off gameplay to convince users that they have to have your app.
7. Create a User Model:
Knowing your audience is an important part of marketing in general and the same applies to successfully marketing your application. Draft the ideal user for your app and then the features you need to include for your target audience will become more clear. For example, if you are looking to create an app for an older demographic, you'll need to consider different things than you would if you were targeting millennials or Gen-Z.
An app created for 40-60 year-old people is going to require a different approach than if you were creating an app for 20-40 year old people.
8. Opt-in for Google Alerts:
Google Alerts is a content notification service. When you create an alert, you can customize the type of notification you receive, but no matter which options you select, this feature will allow you to learn about forums where your app could receive a lot of publicity and other ideas for things to include in your app.
You will need to take a new approach to marketing after your app launches. Here are a few ideas that you can implement next:
Post-Launch Marketing Checklist
1. Request feedback from users
Mobile apps in Google Play and the Apple App Store are ranked based on popularity, value, and ratings from users. Create a plan to obtain customer feedback and more reviews on your app so you can increase the possibility of downloads from new users.
Don't just read the feedback though. Respond to users and address their concerns. People happy with the customer service they receive are likely to update their review and praise your ability to adapt.
2. Seek Reviews
Submit your app for reviews on blogs and YouTube video channels. User feedback is invaluable.
3. YouTube tutorials
Teach users how to use your app and how to resolve issues that may arise (let's face it: all new apps run into bugs at some point… we mean, Facebook & Instagram even crashed).
Even simple apps can be confusing to some people even with onboarding and instructions. A demonstration of how the app works is a great way to get customers interested in downloading your app because they will know how it can help them and how to use it already.
4. Consider a Paid Strategy
If you have the funding available, paid advertising on Facebook or Google may be beneficial to you.
Google Ads will be the perfect place for a paid campaign if you're app offers a solution for a specific problem.
Facebook Ads allow you to target a very specific demographic and even things like job titles. The other powerful feature of Facebook Ads is you can retarget people who have visited your website or downloaded previous apps you've created.
Other platforms like Instagram and Twitter can also be effective if you're targeting millennials.
Marketing your new app doesn't have to be stressful or a pain-point in the production of your product. We hope these tips and tricks can help you successfully market your app and receive the feedback you desire. If you would like assistance with the marketing aspect of the project, feel free to reach out to our sister company: Momentum3 Growth.