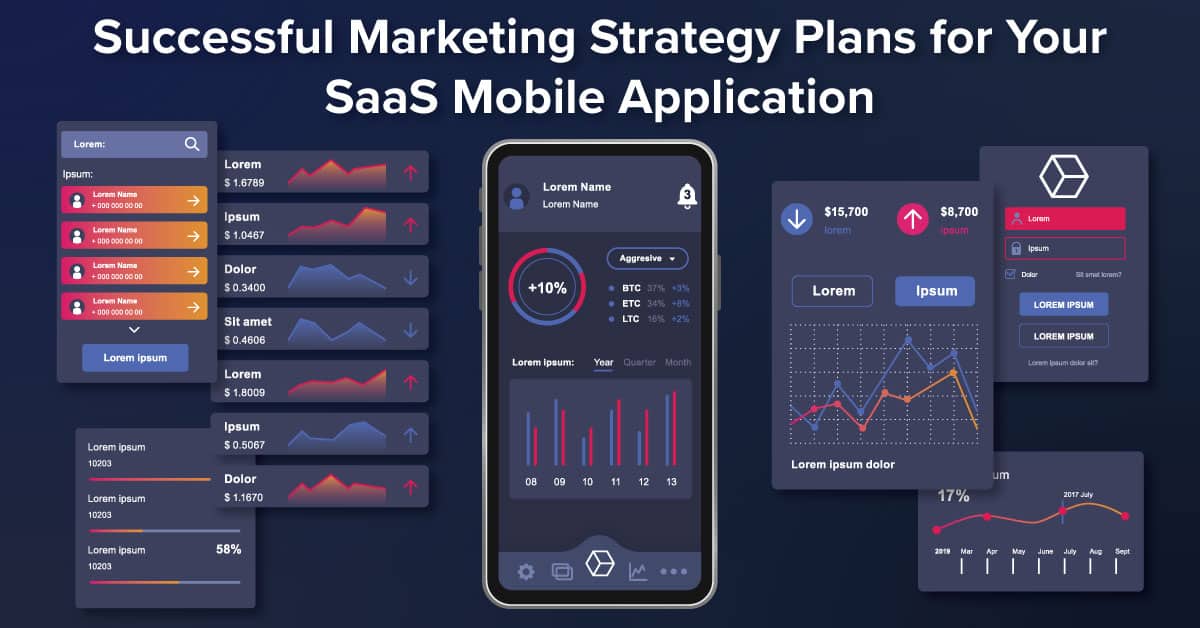 We understand why companies choose to launch a Software as a Service, otherwise known as a SaaS mobile application. They decide to create SaaS applications because of their lower upfront costs, accessibility, compatibility, and operational management. They also typically require subscriptions from their users, which equals a steady stream of revenue, allowing continuous profitability and growth.
Since Apple launched its App Store in 2008, mobile applications have exploded in popularity. Covering all topics and categories, they have come to define smartphone usage. As of 2020, mobile devices now account for more than half of all Internet users worldwide. In turn, about 90% of time spent on mobile devices is on apps rather than traditional web browsing. (1) From that, SaaS applications have become a multi-billion-dollar business.
Now you want to get in on the action with a SaaS application of your own. You have jumped through all the hoops. You have designed and coded yourself or hired the right developer. So, what is next? How do you spread the word about your application? We hate to be the barrier of bad news, but SaaS products have to have a distinct marketing strategy to allow for both acquisition and retention of clients. With that said, whether your application is ready for release or if you're still putting on the finishing touches, you must communicate the need for your app in a practical marketing plan. You may have created the best SaaS application in the world, but what good does that do if you can't promote it and thus create re-occurring revenue through your subscription-based service? In turn, here is a guide to help build a marketing strategy to generate organic downloads for your mobile application that lead.
Set a Game Plan to Develop a Great Product or Service
To build a successful SaaS marketing strategy, it's essential to make some critical decisions beforehand – don't just go diving in headfirst. In particular, there are a few questions you should ask yourself in order to ensure that your product meets the needs of your customers and offers a great user experience in the process. What are your goals for your app? What is your timeline for achieving those goals? How do you get there? What resources and tools are needed to complete the outcome? What will the price point be? Will you offer additional content through in-app purchases?
Consumers must realize that there are financial implications of a problem that your application has the capability to solve.
Understand Your SaaS Applications Target Audience
Let's be honest, your product isn't going to solve everyone's problems, but understanding who your target audience is will help you reach the right audience for your marketing goals. Everything you design for your SaaS application should be created for your audience including, but not limited to the design of your product, the look and feel of your website, and the content that is produced for your website, social media, etc. It is also crucial to understand how your target audience shares and obtains information. For example, relying on email as your first option is unlikely to capture the attention of millennials. Once you've done this, you also need to gauge the demand for your product.
Determine What Resources You Will Need
Once you have determined your marketing tactics, you will have to gather the resources needed. This may involve hiring other people, such as graphic designers for digital and print marketing or producers and editors for video content.
Understand the Law
You must be aware of all regulations relevant to your SaaS application. In particular, you need to have a firm grasp on data protection and privacy laws to avoid leaving yourself vulnerable to legal action. Depending on the services your app provides, you might also want to familiarize yourself with health and environmental laws, and it is even important to disclose what will happen with your user's information should they cancel their subscription to your service. For example, how long is that information backed up?
Understand Your Competitors
To build a successful SaaS marketing strategy it is important to take a look at what your competitors are doing. Consider what's worked for them and what hasn't and learn from their mistakes. Discover what strategies they used to market their product, how their search rankings fair, what they utilize social media for, and any keywords or backlinks they may have.
Understanding your competitors' products is also crucial for your ability to set your app apart. If someone asks, "didn't someone else do this already?" you should be prepared to explain why your product is different or better from what they've seen before.
Build a Microsite to Tell Your Story
A microsite is a subsection of a more extensive website devoted to a more specific topic, and diligently work to ensure that your website is conversion focused. Microsites can increase awareness and promote focused content toward your app. They can also explain your mission and vision for the brand in a forum separate from the application. Was the app designed to be a platform to optimize customer experience? Tell them how! Does your application help solve an ongoing issue or make life easier for those who use it? Explain the passion behind this product and why you decided to solve this problem! If you can get a customer to care about your ideas, it may help bring them back to download your next app.
Utilize Social Media to Promote Your SaaS Application
You cannot neglect the power of using authentic content as part of your SaaS marketing strategy. It is estimated that about 4.1 billion people use social media as of October 2020. That's more than half the world population and represents an increase of 450 million from October 2019. Projections show that growth is continuing to accelerate, and as more of our lives take place online than ever, social media is growing more critical in keeping people connected. It is essential to get your approach right when utilizing social media to promote your application. Every social media marketing strategy will be different due to its own unique attributes and target audience. Each generation interacts with social media in different ways, so target market research will be imperative in deciding which social media platforms you use. For example, if your app has flashy visuals, you may attract attention by posting screenshots on Instagram. If you are trying to reach an older audience, Facebook may be a better bet.
Just remember, simply being on social media isn't enough. You must regularly post engaging and informative content and leverage target ads to reach more people.
Make a Strong First Impression
Consumers are overloaded with information, and the mobile app industry is no exception. With over 1.8 million apps on the App Store and 2.8 million on the Google Play Store, it can all seem like noise. But say you have succeeded in bringing your app to someone's attention. Whether they have stumbled on it by chance or through extensive research, they've found themselves on your app's page. This is a crucial moment – you won't have much time to keep their attention before they're moving on to something else. The icon should be simple but relevant to your topic and catch your eyes. Your app's name also matters, and your description should give them all the information they need to understand what your app is about.
Partnerships and Free Trails
Another way to bring attention to your app is to get endorsements from influencers. Their posts can reach millions in seconds, and their fans will want to follow their idols' examples. It is not just Instagram, though – you can also reach a wide audience with YouTubers' sponsorships. Regardless of which platform you choose, it is important that your partnership will expose your app to the specific kind of people who are likely to be interested in it.
If you pair your partnerships with free trails, you have a huge potential to attract potential customers. Limited free trials are a great way to show users that they need your product and can benefit from it before becoming a paid customer.
Utilize Word of Mouth to Promote Your Saas Application
You want to create a positive buzz around your app. Word of mouth is critical in efforts to attract organic downloads; 74% of consumers identify it as a key influence in their purchasing decisions. This statistic shows up that it is important to encourage your happy customers to review your SaaS product, and that then gives you're the ability to display their testimonial on your website for all visitors to view.
Incentivize Users to Spread the News
A good strategy is to give users rewards for downloading the app and telling people about it. The most basic tactic is to have your app automatically ask users to leave reviews and a positive rating, but there is much more than you can do. There is no substitute for hearing from people they know and trust for many consumers. You can capitalize on this by providing specific rewards for referrals to family or friends. Uber and Airbnb are two examples of companies that have enjoyed explosive growth in their referral programs' strength, which offer credit for users who get others to sign up. You may also want to allow users to share their work or results with others to showcase what your app can do directly. For example, if your app is a game, a user who posts his or her score may inspire their friends to download the app and beat their record. It's also imperative to have a clear understanding of your target market and ROI for each referral.
Search Engine Optimization
It is important to take steps to ensure your app will come up in search results. The framework we choose for SaaS SEO is proper keyword research, and content and strategy.
Keyword research for your SaaS application consists of discovering what keywords users search Google to discover your product as a solution for their problem. As you are in this discovery phase it is crucial to build a list of these words to serve as a solid foundation for your micro-website and application that will help pull your ranking on Google higher.
If you have a microsite, creating a blog with articles that focus on app updates or tips will improve visibility. But be careful not to go overboard – if you post too much, search engines may flag your blog as spam, and this will hurt your position in results.
Stay on Top of It
Coming up with a SaaS marketing strategy for your product can be extremely difficult. Even if your app is a smashing success right off the bat, your job isn't done after launch. It is important to address your app itself, reviewing feedback, and fixing bugs. The longer it takes to address issues, the more adversely it may affect ratings. You do not want to develop a reputation as an unresponsive developer. Tracking the results of your marketing program is also an ongoing process. Dive into the metrics to ensure that your ROI is keeping pace with your expectations, and if you do not see the numbers you want, be prepared to make the changes necessary to get back on track. Finally, it would help if you kept a steady stream of content flowing to stay relevant and maintain user interest.